Je tiens d'abord √* m'excuser aupr√®s des v√©t√©rans et autres actifs de la CF :blush: pour mon √©tat physique et ma tenue d√©plorable, le 16 as pas la bretelle r√©glementaire et vu que je n'ais pas encore les boots ad-hoc, on as rabott√© le Lskiv/Please forgive me Former and active members of CF for my out of form and FUBAR look, if not for the use of RD Insignias and ranks (having done myself my tour of duty in the French Green Machine i could understand it could be disturbing-btw my purpose is a pedagogic one to show "how was others way", not to pretend be someone else BTDT.) The Armalite replica is neither the good one as the rifle sling, same for the combat boots.
Here followed the translation i paste for some French collectors/renactors from the excellent online site "mpmuseum.org"-Ici posté une traduction pour des collectionneurs/reconstitueurs Français extrait de l'excellent site "mpmuseum.org"
avec l'aide d'un traducteur online
Branche de la Police Militaire de la Force Canadienne
Uniforme de Combat
L'uniforme de Combat de CF (connu comme des Combats) est commun √* tous les trois Armes (Terre, Mer et Air), en dehors des sp√©cialistes en tenue de vol ou d'√©quipage AFV. Les combats ont √©t√© pr√©sent√©s pour le service de Force R√©gulier en 1963. Les r√©serves n'ont pas eu acc√©s √* l'uniforme jusqu'√* 1972, bien que l'on leur ait permis de le porter. Jusque-l√*, des R√©servistes individuellement les ont achet√© le Combat utility dans les magasins(d√©p√īts) de surplus de l'arm√©e.
L'uniforme de Combat a consist√© en Chapeau, la Parka, le Manteau, la Chemise, le Pantalon et des Bottines. Plusieurs mod√®les variables de chacun existent. √Ä l'exception du parka, l'uniforme a √©t√© destin√© pour √™tre nettoy√© en le lavant et sans repassage. Nettoyage √* sec ou repassage abouti √* ce que le tissu fonde ou quelques nuances(ombres) spectaculaires d'uniformes roses. Le manteau et les poches de poitrine de chemise sont distinctifs, comme ils sont inclin√©s. Ceux-ci ont √©t√© destin√©s pour adapter un chargeur de 20 coups de fusil FN C1 (prod CANADA du SLR L1A1 as garniture bois), cependant les soldats ont rapidement d√©couvert qu'une canette de bi√®re ou un paquet de cigarette y entraient ais√©ment.
Des chargerus suppl√©mentaires ont √©t√© port√©s dans des boucles √* l'int√©rieur des poches de taille. Initialement, le Combat a √©t√© destin√© pour √™tre port√© exclusivement en caserne, le terrain ou sur des op√©rations. Les soldats ont √©t√© interdits de le porter en beaucoup d'endroits(de places) publics ou sur le transports en commun.
Le mod√®le initial de Combat a √©t√© pr√©sent√© en 1963 pour √™tre remplac√© par un Mod√®le de Mark II au d√©but des ann√©es 1970. Les deux mod√®les √©taient dans l'usure concurremment jusqu'√* ce que les provisions du premier mod√®le aient √©t√© √©puis√©es. Mark II Combat la chemise √©tait semblable dans le design(la conception) au premier mod√®le, mais la chemise avait un cordon √* la taille.
Mark III modèle de chemise a été adopté au milieu des années 1980. Publié dans relativement des nombres limités, il a été porté concurremment avec les chemises de Mark II. Mark III n'était pas réussi(fructueux) et au début des années 1990 avait pratiquement disparus.
Jusqu'a la fin des années 1990 le Combat a été porté par la Police Militaire, soumise aux ordres(commandes) d'habillement locaux, comme un uniforme standard de patrouille au Canada. Entre 2003 et 2004, l'uniforme de patrouille de combat a été remplacé par la nouvelle patrouille noire. En 2008 fur adopté le camo et tenue CADPAT.
http://mpmuseum.org/index3.html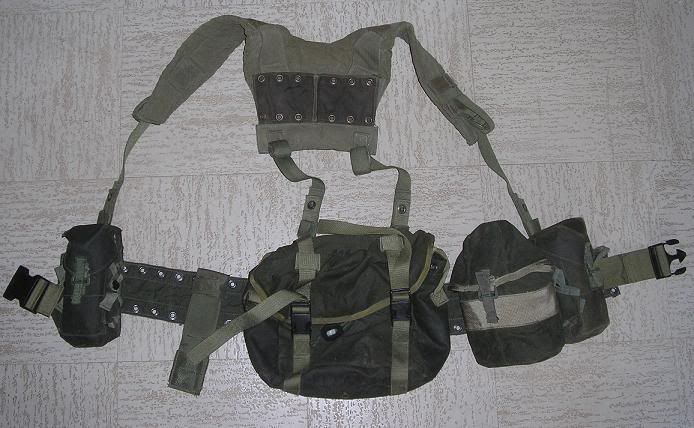 Webbing Pattern 1982
- WE'82 Utility Belt
- WE'82 Yoke
- C7 rifle magazine pouch for 2 30 round magazines and 2 grenades.
- WE'82 Canteen Carrier and Canteens+cup
- WE'82 Scabbard Bayonet Holder
- WE'82 Small Field Pack
http://mpmuseum.org/securequip2.html
Brélages modèles 1982 Et articles associés
Sur des services de terrain, les armes et l'√©quipement utilis√©s par la police militaire sont tr√®s diff√©rents de cela port√©e sur le devoir de patrouille de base ou de ville au Canada. Normalement l'√©quipement supportant la charge d'issue standard est utilis√©. Entre 1968 et environ 1985 l'√©quipement en toile de mod√®les 1964 a √©t√© utilis√©. Le Web de mod√®les 1964 √©tait un √©chec dans le concept et l'ex√©cution et a √©t√© compl√®tement d√©daign√© par les troupes. Commencer au milieu des ann√©es 70 plusieurs mod√®les d'√©quipement en toile ont √©t√© d√©velopp√©s et publi√©s pour des √©preuves d'utilisateur. Ces √©preuves ont eu comme cons√©quence l'adoption de la sangle de mod√®le du Canadien 1982 (WE' ; 82). WE' ; 82 √©taient un syst√®me modulaire bas√© sur un waistbelt (ceinture de service) soutenu par un joug capitonn√© d'√©paule attach√© par Crochet-Courroie. Un assortiment des poches et des porteurs d'√©quipement a pu √™tre fix√© √* la ceinture de service √* l'aide des crochets en plastique sur les grommits d'√©quipement et en m√©tal sur la ceinture. Le type et l'endroit d'√©quipement port√©s sur la ceinture ont d√©pendu du soldat ; r√īle de combat de s, et √* un peu de degr√©, pr√©f√©rence personnelle. √Ä la diff√©rence des mod√®les pr√©c√©dents de l'√©quipement en toile qui ont √©t√© port√©s autour du milieu de la taille, WE' ; 82 ont √©t√© port√©s avec la ceinture fix√©e autour de la partie charnue des hanches. WE' ; 82 √©taient un succ√®s mod√©r√©. Le seul probl√®me r√©el avec WE' ; 82 √©taient que les petits crochets en plastique ont tendu √* se casser apr√®s une certaine utilisation ou dans froid extr√™me et les grommits en m√©tal ont √©t√© facilement d√©form√©s. Bien que non parfait cel√* as √©t√© une am√©lioration √©norme sur le WE' ; 64. WE' ; 82 ont √©t√© employ√©s par beaucoup de soldats sur des rotations t√īt en Afghanistan de pr√©f√©rence aux gilets tactiques et porteurs. √Ä partir de 2009, WE' ; 82 √©taient toujours dans le service limit√© dans l'arm√©e canadienne. Quand WE' ; 82 ont √©t√© adopt√©s, les forces canadiennes ont √©t√© arm√©es avec la mitrailleuse de fusil F-N C1A1, de lumi√®re F-N C2 (FN Falo-canon lourd/bi-pied et chargeur de 30 coups de production Canadienne) et le submachinegun C1 (Sterling L2A3 de production Canadienne), donc des porteurs de chargeurs et un fourreau de ba√Įonnette pour ces armes ont √©t√© adopt√©s. Au milieu des ann√©es 80 ces armes ont √©t√© remplac√©es par les fusils C7 et C8 et la mitrailleuse C9, et de nouveaux porteurs chargeurs ont √©t√© produits. Un mod√®le am√©lior√© de fourreau de ba√Įonnette a √©t√© √©galement adopt√©. En date de la fin des ann√©es 1990 l'√©quipement en toile de 1982 mod√®les √©tait en cours d'√™tre remplac√© par les gilets porteurs tactiques et les gilets tactiques. L'√©quipement de 1982 mod√®les a √©t√© bas√© sur trois ensembles : ORDRE de COMBAT, ORDRE de BATAILLE, et ORDRE de MARCHE.