Almost complete just missing a few items, Rucksack, Type 00 Gas Mask Bag, Type 89 Bayonet. NVG Mount is kind of farby but there is no PX JGVS-V8 cover available yet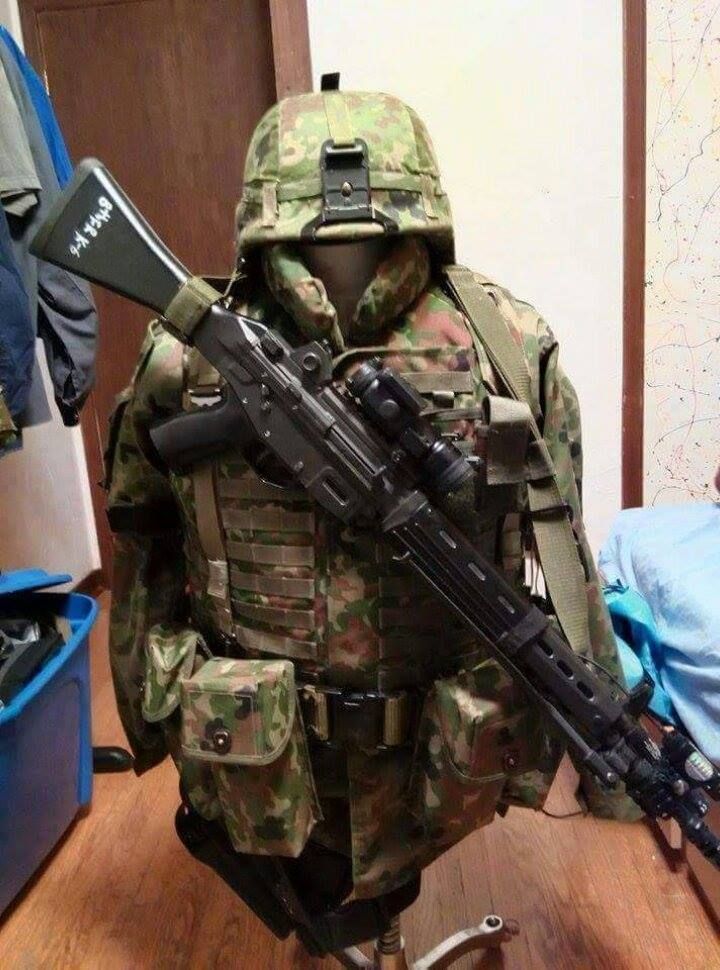 I managed to get a modern Type 2 Japtarn cover for the Type 66 steel pot helmet on a Japanese auction site. It's currently mounted on my Chinese reproduction M1 Helmet. The OD Foilage band is incorrect and meant for use with the older Type 1 camo cover. I have installed a Ranger PX chinstrap as the GI one is incorrect for a Type 66 helmet.
Another Jewel I managed to add to my collection. A real Type 66 helmet dated 1984 with a Type 1 (Hokkaido) camouflage cover. The Steel Shell is the same size as M1 helmet but the liner is drastically different.
The Chinstrap is two pieces OD webbing and is worn much like a WW2 IJA chinstrap.
Japan was not known for quality in the 80's and thus the liner and shell are loose. Previous owner of the helmet had added double sided tape to keep the liner from coming lose from the shell. It's not uncommon to see binder clips on the rear of Type 66 helmets to keep them from wobbling around.