Hey a thought just came to my mind. I could modify it to look like the Chinese Type 54 Model 213.
From this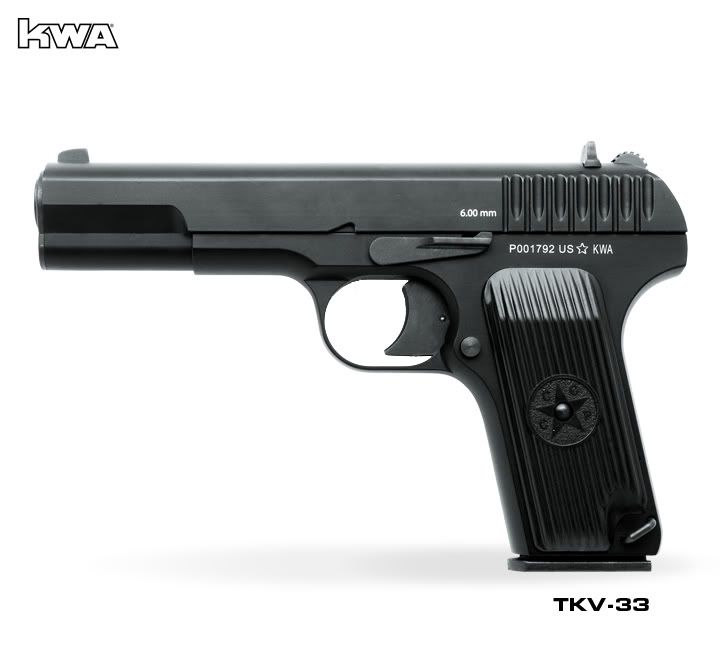 To this (painted black)
1. Remove the paint on the slide
2. Put metal filler on the grooves on the slide
3. Cut diagonal grooves in a 110 or 70 degree angle(yes I measured it) on the slide
4. Gently sand the rear of the slide so it is at more an angle compared to the original TT-33 - which has more of a curved back on the slide.
5. Do the same to the frame to match the slide's new angle
6. Repaint slide
7. CNC a new trigger that does not have a gap between the trigger and the trigger guard.
8. CNC a faux rear frame safety.
9. Paint safety and trigger black.
10. Drill small hole on the slide where the safety goes, paint it orange to indicate safety mode. Add 2 screws to block the switch.
11. Install the faux rear frame safety. Affix it to "fire" permanently (Most people leave it on fire anyways cause it's not very reliable either way.)
12. Buy original type 54 grips, use them in place of the KWA's CCCP Star grip.
13. *Optional* Etch markings onto the pistol.
p.s. Apparently the PLA still use the Type 54 as their standard issue pistol. QSZ-92 is only being used to special forces. Also, PLA uses lots of export pistols and foreign pistols according to Leoung. (Verify?) CF-98, the 9mm version of the QSZ-92 is one of them. I've read from another source that the PLA also uses the 9mm version of the Type 54 pistol. (Verify?) The Model 213 as shown in the picture above is the 9mm version. I personally like the aesthetics on the M213 better than the original Tokarev and Type 54. More modern looking, with the diagonal cuts and the slightly more angular slope at the back of slide. An extra safety for decoration didn't hurt either.