SAFETY FIRST!
Be sure to avoid getting oil on the fill valves of the tank, Getting oil in the fill valve will
cause the oil inside to detonate when you fill them. Similar to how a
http://en.wikipedia.org/wiki/Diesel_engine
work.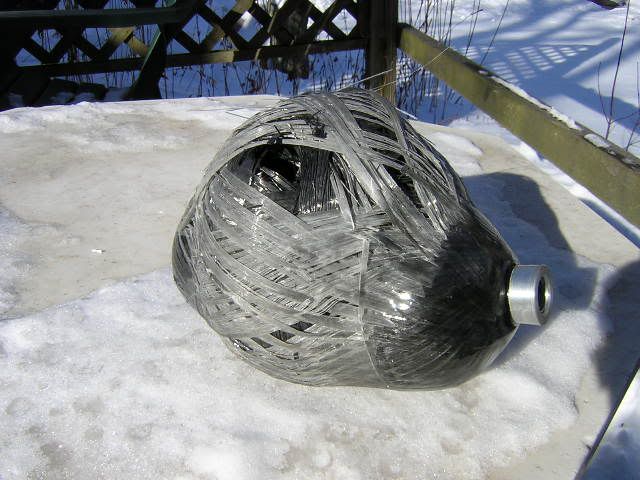 This is what happens when you make that mistake.
HOW IT WORKS
There are many brands of tanks, a few brands for regulators, experimenting with tank/regulator often will yield more or less the same results, 80 PSI is still 80 PSI, whether you are farting into the airline or have it jerry rigged to a compressor, source of air does not matter, pressure and volume does.
( I made this picture myself, please don't steal it and post it everywhere )
The HPA air tanks have 3000PSI or 4500PSI inside, the in tank regulator will change that to a much lower number, 800PSI or whatever else the manufacturer decided to do. Your "primary" or "air rig" regulator is technically a second regulator, it lowers the 800PSI or whatever it maybe to a even lower psi. Airlines need to be rated for +140PSI as the average input for external air systems is 120PSI ( stock form ) the bore of the lines is best to be 6mm or higher, PSI & Volume are VERY important. In-tank regulators they are tank specific, 3000PSI regulators belong on 3000PSI tanks, 4500PSI on 4500PSI tanks, they say specifically what output PSI they give you, some are adjustable, some aren't, this
one
gives 450-800PSI. Although it is not required, it is recommended to stick to reputable air tank manufacturers, such as Ninja, or Guerilla Air, (specifically the TANK REGULATOR, the tank itself is somewhat inconsequential). Ninja is well known for good customer service and replacement of parts, and the QC and reliability on these tanks are relatively better than others. Ninja tanks have a somewhat higher resale value, especially in paintball compared to other tanks, and generally have consistent fast recharges, ensuring high ROF set ups do not choke. Ninja tank regulator are also customization and user rebuildable, allowing maintenance and cleaning of the reg, and adjustable location of the dial and fill valve.
"Air Rig" regulators have a max input pressure on them, do not put a tank that excedes its maximum rating. Output pressure will change only slightly when switching from a high pressure to low pressure tank or visa versa, small adjustments are needed to get the desired PSI output again. ( best to "rechrono" the gun as well ) <- Game hosts, this is for you

In-tank regulators can be found HERE

AIR RIG REGULATORS (PRIMARY REGULATORS)
Here is some specs for quick referencing
Redline Firebase
Maximum input 900PSI
Output 40PSI-140PSI
Vent PSI 140PSI -160 PSI
balance 9/10
Price $$$
Palmers Pursuit Regulator
Maximum input 1800PSI
Output 0PSI-750PSI
Vent does not have one.
balance 6/10
Price range $$$
Ninja LPR
Maximum input 1000PSI
Output 0PSI-160PSI
Vent 140PSI - 160PSI
balance 9/10
Price $$
Valken SLP Regulator
Maximum input 300PSI
Output 0-120PSI
Vent none.
balance 0/10 DON'T EVEN FUCKING TRY AND PUT A 800PSI OUTPUT ON THIS GUY!
Price $$
*** ONLY USE TANKS WITH SLP REGULATORS, MAXIMUM INPUT 300PSI ***
If you are building your own regulator, make sure that your input PSI is rated over 800PSI,
and its output is from 0PSI-140PSI, be sure to have burst discs incase of the regulator failure
EVERYTHING IN THIS THREAD IS CAN BE VERIFIED THROUGH MANUFACTURER'S SERVICE MANUALS
EVERYTHING IS 100% UNBIASED, NOTHING IS BEING PROMOTED FOR PERSONAL GAIN.
THIS IS A GUIDE FOR THE PEOPLE WHO ARE NOT FAMILIAR WITH THEIR AIR SYSTEM.